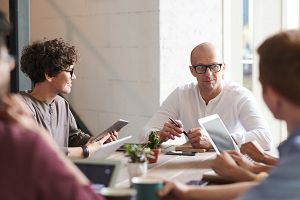 Alternative Dispute Resolution ("ADR") is an "alternative" to resolving disputes in court.
Mediation is an essential part of the Amicable Divorce process, in which settlement efforts are facilitated by a trained, skilled neutral family law expert called a mediator. Mediation is a private process where the parties can be free to openly discuss settlement possibilities confidentially, in an informal but structured setting that allows them to control the outcome of their case.
No one "wins" in a family law dispute. Mediation requires compromise – both parties must give and get in order to reach a settlement that they can each live with. In doing so, the parties both benefit from an outcome that allows them to move on with their lives without the uncertainty, expense and emotional harm that comes with adversarial litigation.
The mediator is there to help with any bumps in the road and guide the parties to a mutually acceptable compromise, even if the spouses have significantly different ideas about settlement terms. Because family law matters are emotionally difficult, and the parties each need individual, private advice, typically each party is in a separate room with their attorney, and the mediator moves back and forth between the rooms.
In the Amicable Divorce Process, mediation is scheduled when financial disclosures have been made, Network Processionals have provided their input and support, and both parties feel that they are fully informed and ready to engage in meaningful settlement discussions.
Arbitration is utilized in the Amicable Divorce process if mediation is not successful. Sometimes called a "private judge," the arbitrator listens to a presentation from each attorney, hears the perspectives of both parties and others who have helpful knowledge, and reviews relevant materials. The arbitrator then makes a final decision as to all issues, included child custody and support, alimony (if applicable), and division of assets and debts. Arbitration provides a final resolution of your case, on your timetable, in private, without stepping foot in a courtroom. When the divorce is filed, the arbitrator's decision becomes the final court order.
You can find mediators and arbitrators in the "Dispute Resolution/ADR" category of our directory.